Nitro Circus Live, the global touring phenomenon featuring 55 of the world's best action sports athletes, wrapped its record breaking Australian tour Sunday night at Melbourne's Rod Laver Arena. Sixteen semi-trailers hauled 250 tonnes of equipment and traveled nearly 7,500kms to bring the world's largest live touring act of 150 cast and crew to 4 cities across Australia.  Over 150,000 fans turned out to witness the record-breaking action sports spectacle, with four sold-out shows in Brisbane, four sold-out shows in Melbourne, three sold-out shows in Sydney and thembiggest ever Australian show in Perth with over 20,000 tickets sold.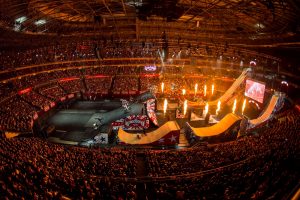 The Australian tour was also the official unveiling of a stunning all-new show and the first time world-wide that a new multi-million dollar set was seen by enthralled Nitro Circus fans.  For the first time in Nitro Circus Live history, the show went 'retro', with the entire performance choreographed and styled as a 1920s, Barnum & Bailey style circus.
Fans were blown away by the spectacular pyrotechnics (over 2 tonnes of explosives were used during the Australian tour), detailed choreography including the 'Nitro Bomb' with 30 riders back-flipping in the air simultaneously, hosts of crazy contraptions hurled down the famous 50-foot-high Gigant-A-Ramp and amazing feats performed on the world-first Trigant-A-Ramp.
"This is the third tour we've done a tour of Australia's major capital cities and we are thrilled to have sold-out all 12 shows and produced our biggest ever Australian show in Perth," said Nitro Circus CEO, Michael Porra. "We achieved unbelievable success overseas on our recent global tour, selling out shows in some of the world's most iconic venues, but to come back to Australia sell out all of the shows across the country with an incredible 40% increase on ticket sales over the last tour, is simply incredible."
The tour also marked the highly anticipated return of Nitro Circus founder and 17 times X Games medalist, Travis Pastrana, to the sport which rocketed him to international superstardom, freestyle motocross. This tour was the first time Pastrana had ridden in Australia since 2011.
Australian fans were lucky enough to witness five incredible world firsts throughout the tour, including; Cam Sinclair's unbelievable four-person backflip on a motorbike, Jolene Van Vugt's world first female frontflip on a BMX, Steve Mini's amazing three-part FMX combo 'Mini Drill Press' as well as Sunshine Coast scooter rider Ryan Williams, two amazing world firsts on a BMX bike, a frontflip 720 and a frontflip bikeflip.
The raft of crazy new contraptions included everything from a rocking horse, snow skis, tandem bikes, a lazy boy, and razor scooters to a rocking horse, a Barbie car and even a bath tub.
The Nitro Circus Live crew will take a short break before embarking on two shows in Macau in August, followed by their first ever visit to the United Arab Emirates in November.  Details for a 2015 tour of New Zealand and Regional Australia announced soon on www.nitrocircuslive.com