Australian made Railway Track Signals for Australian railways: Our name stands for safety
Railway Track Signals
Howard & Sons Pyrotechnics manufactures railway track signals (RTS), an audible safety signalling device used by rail organisations in Australia and New Zealand. Railway track signals are sometimes referred to as 'railway detonators'. This is a misnomer; RTS are not detonators and cannot be used as detonators.
This type of manufacture might seem a strange choice for a fireworks company which specialises in pyrotechnic events, but for this particular branch of the transport system, we play a vital role.
Railway Track Signals are classified as a Class 1.4S explosive, but this lower classification only applies if they are supplied, stored and handled in original Howard & Sons Pyrotechnics packaging. ensuring the product handling and storage safety. The packaging we have designed and tested means that should an accident occur, the explosive chemicals inside our packaging will minimise any incident involving the misuse of the product.
The supply of RTS are linked to a huge number of safety and regulatory requirements which include:
Lockable storage of RTS in a secured internal magazine in accordance with AS 2187.1
WorkCover regulations including Explosives Regulation 2005, AS2187.1 and applicable licencing conditions
Maximum quantity of RTS for sale, during transportation, in use or in storage without a licence is 10kg
Unused and/or out of date RTS must be stored in their original packaging in a magazine. Should this not occur, the RTS then receive a highly hazardous classification of 1.1G
RTS issues to rail personnel must be kept in a locked area
RTS transportation on a rail wagon requires a mixed-class label
Use according to supplies or manufacturer's instructions and only for the purpose for which they have been designed
If unused, return to the original packaging and place in a lockable portable magazine or lockable compartment
The manufacturer will remove misfired or over-age RTS and should be contacted immediately – disposal may only be carried out by a licenced pyrotechnic waste disposal contractor
It is illegal and dangerous to dispose of railway track signals by burning, disassembling, burying and the like, if you are not set up and licensed by WorkCover to do so.
Download a Bill of Lading shipping paperwork blank template for the return of any expired or unwanted RTS units to Howard & Sons Pyrotechnics Manufacturing here.
RTS MISFIRING
Misfires shall be determined as follows:
If the number of sound reports counted (heard) is less than the number of track signals laid out on the train tracks, a misfire shall be assumed
If the railway track signal is damaged and unfired content is exposed in a portion of the track signal, it should be treated as a misfire.
Precautions to be taken following a misfire of a RTS:
Prevent access to the misfired track signal by unauthorised persons.
No person shall approach the misfire until a time interval of 5 minutes has elapsed.
Examination of the misfire is the responsibility of:
the site supervisor, or
primary contractor, or
licensed operator.
If the examination shows explosive composition or debris:
immersed the RTS in a bucket of water for 10 minutes, then
placed in either an RTS canister or a plastic bag (e.g. a sandwich snap lock bag)
keep it moist
identify with a visual label
move to a storage container to be stored in a safe place until disposal in accordance with recommended disposal procedure
Explosive recovered from misfire:
No person shall leave unguarded, abandon, discard or otherwise neglect to safely dispose of any explosive recovered in the treatment of misfires
Notification of misfire to Howard & Sons Pyrotechnics
Howard & Sons Pyrotechnics are to be advised immediately of all misfire events, including details of the Lot and Batch numbers, the date of manufacture and the date of expiry so that further investigations may be carried out.
Howards Showreel
See a 60 second showreel of some of our grand spectacular projects.  These include large-scale events such as national day celebrations, special ceremonies, major special events and New Year's Eve celebrations.
Howard & Sons Pyrotechnics has the creative vision, expertise and passion to design and implement the most imaginative, innovative pyrotechnic concepts for your event, no matter what the scale.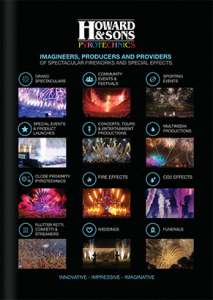 Download our Brochure
Howard & Sons Pyrotechnics are imagineers, producers and providers of spectacular fireworks and special effects. Download our brochure or for more information please contact our head office or your local area manager.