Howard & Sons Pyrotechnics: dedicated to the safe manufacture, distribution, firing and disposal of fireworks
We encourage all pyrotechnics users in Australia to read their local state and territory regulations for explosives and fireworks. Howard & Sons Pyrotechnics only sells pyrotechnic devices to licensed pyrotechnicians or organisations.
A copy of a valid licence must be provided for each purchase. In Australia, state governments regulate dangerous goods, explosives and fireworks. For more information on Howard & Sons Pyrotechnics Manufacturing Pty Ltd terms and conditions of sale download the PDF here.
For more information click on the links below to read the various government authority department guidelines and legislation:
Howards Showreel
See a 60 second showreel of some of our grand spectacular projects.  These include large-scale events such as national day celebrations, special ceremonies, major special events and New Year's Eve celebrations.
Howard & Sons Pyrotechnics has the creative vision, expertise and passion to design and implement the most imaginative, innovative pyrotechnic concepts for your event, no matter what the scale.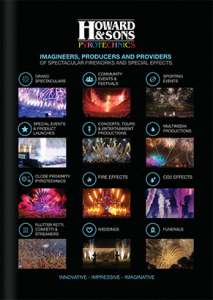 Download our Brochure
Howard & Sons Pyrotechnics are imagineers, producers and providers of spectacular fireworks and special effects. Download our brochure or for more information please contact our head office or your local area manager.