World Class, World Events
Experience you can trust
Howard & Sons Pyrotechnics has been painting the skies of the world with pyrotechnic art since 1922, producing some of the most memorable pyrotechnic spectaculars, including:
These successful projects demonstrate our ability to provide safe, world class, large scale, creative pyrotechnic displays. The projects have been undertaken at various locations around the world, in diverse weather conditions, firing from multiple locations and firing in perfect synchronisation with other multimedia.
The events also demonstrate how the team from Howard & Sons Pyrotechnics actively works in conjunction with event producers, event coordinators, technical partners and all levels of government in a professional, efficient and ethical manner.
Howards Showreel
See a 60 second showreel of some of our grand spectacular projects.  These include large-scale events such as national day celebrations, special ceremonies, major special events and New Year's Eve celebrations.
Howard & Sons Pyrotechnics has the creative vision, expertise and passion to design and implement the most imaginative, innovative pyrotechnic concepts for your event, no matter what the scale.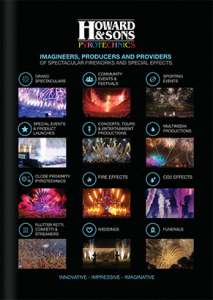 Download our Brochure
Howard & Sons Pyrotechnics are imagineers, producers and providers of spectacular fireworks and special effects. Download our brochure or for more information please contact our head office or your local area manager.