Go Out with a Bang
Ashes can be carefully placed into hand made aerial shell fireworks, that are launched high into the sky and burst in spectacular style and colour scattering the ashes over the ocean or favorite location that the ashes are desired to be spread over.
Ideal for the person or pet for whom you literally want to go out with a bang.
Howards Showreel
See a 60 second showreel of some of our grand spectacular projects.  These include large-scale events such as national day celebrations, special ceremonies, major special events and New Year's Eve celebrations.
Howard & Sons Pyrotechnics has the creative vision, expertise and passion to design and implement the most imaginative, innovative pyrotechnic concepts for your event, no matter what the scale.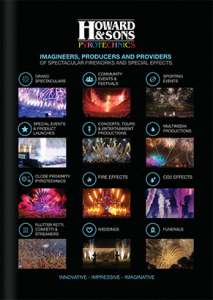 Download our Brochure
Howard & Sons Pyrotechnics are imagineers, producers and providers of spectacular fireworks and special effects. Download our brochure or for more information please contact our head office or your local area manager.