Pyrotechnic Display Equipment
Howard & Sons Pyrotechnics: producers of reliable pyrotechnics equipment for professional pyrotechnic productions.

SPEEDRAIL

Attention Fireone Users!

Howard & Sons Pyrotechnics presents the SPEEDRAIL™, the missing link within FireOne and Pyrolamas pyrotechnic systems. Take advantage of PLUGGABLE IGNITORS to reduce labour costs and make your installation and pulldowns more efficient by up to 75%.

The Speedrail™ is a compact rail that houses a Fireone Module both 2 Wire and WireLess in an effortless and non frustrating way yet just the right size for connections to be made easily and quickly. With its unique design,  SPEEDRAIL™ can attach to almost anything including Pyrolamas rack system, traditional timber racks and industry standard truss clamps.

Contact Christian Howard for more information and prices christian@howardsfireworks.com.au

Download the SPEEDRAIL™ brochure here. Speedrail Brochure

Of course, its one thing having an on-site fireworks and pyrotechnic effects design team which produce fantastic, futuristic explosions of colour time and time again. Having the correct and similarly cutting-edge equipment to fire and choreograph their display is another matter.

This is yet another area where Howard & Sons Pyrotechnics have become globally recognised as one of the leading fireworks companies in the southern hemisphere. Not only do we own reliable equipment for small and huge-scale displays, we hire and train the best pyrotechnicians to use and update them. Add to that our technical design team who can assemble one-off electronic equipment according to the most stringent safety guidelines, and you have a one-stop location for even the most complex of multi-media extravaganzas.

Howard & Sons Pyrotechnics have a wide range of pyrotechnic display equipment for use by professional pyrotechnicians. The items listed below are just a small selection from our pyrotechnics warehouses:

FireOne Firing System: recognised worldwide as the world-class firing system. We own both the hardware and software and employ the experts to use it.
Weatherproof-cased 32-shot rails for the FireOne Firing System: connection rails connect to field modules and organise electric matches into individual firing cases
Tester box for the 32-shot rail: ensuring reliable firing every single time
XLII dual output digital control panel for the FireOne Firing System: self-contained or computer supported for up to 1280 firing cues and unlimited wireless cues and integrating multiple safety features
FM-i8Q wireless 8-cue firing module for FireOne: allows multiple firings of different fireworks types from a single location, tiny, so perfect for close proximity fireworks and using military grade wiring for a reliable, safe display
2-wire system field module test card: for the storing and retrieving of fire files for the complete testing and firing of complex displays
Panasonic Toughbook computers: with XP and FireOne 2000 for perfect pyrotechnics choreography, synchronising to music and multimedia extravaganzas with set up and testing routines and implemented as a fully or partially automatic system or manual
Multiple charger unit for wireless Firelite and FireOne modules: we always have back up when the lights go out
Wireless antennas for radio frequency firing systems: we can present your show from a distance. Great when you don't want our pyrotechnicians to get confused with members of the band or getting snapped in your wedding fireworks photographs!

Please contact us for our product specifications, prices or personalised equipment solutions.
Howards Showreel
See a 60 second showreel of some of our grand spectacular projects.  These include large-scale events such as national day celebrations, special ceremonies, major special events and New Year's Eve celebrations.
Howard & Sons Pyrotechnics has the creative vision, expertise and passion to design and implement the most imaginative, innovative pyrotechnic concepts for your event, no matter what the scale.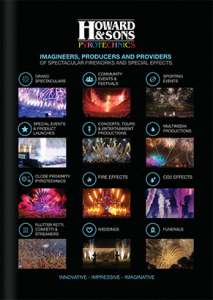 Download our Brochure
Howard & Sons Pyrotechnics are imagineers, producers and providers of spectacular fireworks and special effects. Download our brochure or for more information please contact our head office or your local area manager.