The Best Events
Need the Best Expertise
Christian Howard
Director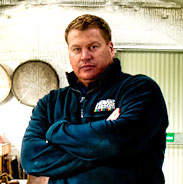 Christian Howard is a fourth generation pyrotechnician with a worldwide reputation for developing new and unique pyrotechnic products and introducing them to a global market.
Christian was taught the art of pyrotechnicsby both his father Les and his grandfather Harry, two impressive stalwarts in the fireworks community. As this family tradition continued and various secret formulas and processes were passed down to him, Christian took these and his increasing years of experience and knowledge to slingshot the family business into a modern, hi-tech world.
Christian built the Howard & Sons range of unique debris-less fireworksand close proximity pyrotechnics. His product development skills, digital firing systems and creative designs in the fields of special effects and pyromusical displays have launched his pyrotechnic wizardry throughout the world and he has been rewarded by winning six International Fireworks Competitions so far. The best is yet to come.
Christian sits as a committee member on the Australian Standards Committee for CE5 explosives standard reform. He is also the current and founding President of the Pyrotechnics Industry Association of Australia (PIAA) and committee member on the Fireworks Consultative Committee of NSW – a group formed to liaise with the former NSW WorkCover through the processes relating to the recent Dangerous Goods Act and regulation reform. Furthermore, Christian is a member of the Fireworks Advisory Committee which liaises with the Queensland-based Department of Mines, focussing on theatrical effects and close proximity pyrotechnics.
When 'the professor' is not at his drawing board thinking up his next bright idea, he enjoys spending time with his wife Fiona and their active family of boys; Hunter, Corbin & Aston. Christian enjoys motorsports, curling, new gadgets, spending time with close friends and family, travelling and going for long Sunday drives in the semi-trailer.