Powerful in Perth – Pyrotechnics from Howard & Sons in Western Australia
Western Australia
Howard & Sons pyrotechnicians, designers and representatives are always available to assist in the arrangement, management and production of your special effect and fireworks displays. Shayne Lewis, our Western Australia fireworks company representative, will help and advise with the design and choreography of your event special effects, before bringing down the professional team closest to you to produce and present stunning night-sky art.
Howard & Sons Pyrotechnics, Perth: Fireworks and Special Effects throughout Western Australia
Specialising in larger events, but also available for smaller affairs, Howard & Sons pyrotechnicians can bring an arena, stage, park, harbour, hilltop or even community centre to life anywhere in the huge state of Western Australia. From Perth to the borders of Northern Territory and South Australia, our specialised pyrotechnics teams, quality equipment and incredible effects make Howard and Sons the obvious choice.
If you are looking for experienced and ground-breaking pyrotechnicians for your indoor or outdoor, huge-scale or smaller-scale wedding fireworks display in Western Australia, please contact our Howard & Sons Pyrotechnics Perth representative, Shayne Lewis. The use of fireworks by the general public is banned in Western Australia, except for unrestricted fireworks such as party poppers, Christmas crackers and sparklers. Howard and Sons is a professional and leading fireworks company experienced in the design, manufacture and firing of complex pyrotechnic displays, as well as their storage and transportation. We are fully licenced throughout Australia. Fireworks made by Howard and Sons are fired by their original designers in complete safety.
The Lord Mayor of Perth once said "No one does an Australia Day quite like Perth". This was said on the day Howard & Sons entertained the city with a fantastic fireworks display. She wasn't wrong. We have presented a huge number of cutting-edge, colourful multimedia displays in this similarly vibrant city with fantastic success.
Howard & Sons Pyrotechnics Perth: Key Services
Howard & Sons are specialists in the design of elaborate or simple but effective displays with or without multimedia, lasers, water screens, confetti cannons and any other type of explosive entertainment.
Howard & Sons Queensland offers the following services for locations all over Western Australia:
Fireworks and pyrotechnics design
Fireworks and pyrotechnics licencing
Fireworks and pyrotechnics logistics
Howard & Sons Pyrotechnics, Western Australia: Event types
Howard & Sons have carried out both straightforward and incredibly complex displays, often developing turnkey solutions from scratch. Howard & Sons Pyrotechnics would be honoured to host any one of the following events for clients in the state of Western Australia:
Contact Information for Howard & Sons Pyrotechnics, Perth:
Give us a call today and see how our pyrotechnician team will make your event an occasion no one will ever forget.
Western Australia
Shayne Lewis
For all your display and product requirements in Western Australia.
0407 424 686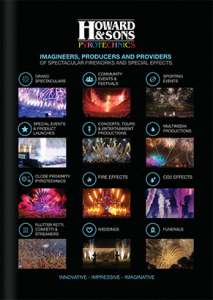 Download our Brochure
Howard & Sons Pyrotechnics are imagineers, producers and providers of spectacular fireworks and special effects. Download our brochure or for more information please contact our head office or your local area manager.
Howards Showreel
See a 60 second showreel of some of our grand spectacular projects.  These include large-scale events such as national day celebrations, special ceremonies, major special events and New Year's Eve celebrations.
Howard & Sons Pyrotechnics has the creative vision, expertise and passion to design and implement the most imaginative, innovative pyrotechnic concepts for your event, no matter what the scale.