Terrific in Tasmania – Howard & Sons Pyrotechnics, Hobart
Tasmania
Howard & Sons pyrotechnicians, designers and representatives are always available to assist in the arrangement, management and production of your special effect and fireworks displays. Rusty Johnson, our Tasmania and Victoria company representative, will help and advise with the design and choreography of your event fireworks or special effects, before bringing down the professional team closest to you to produce and present stunning night sky art at every possible type of event on the island.
Thanks to our near one hundred years of experience in the field of pyrotechnics there is nothing we don't know about making your event dramatic, exciting, awe-inspiring, and very, very safe.
Howard & Sons Pyrotechnics, Hobart: Fireworks and Special Effects throughout Tasmania
Specialising in larger events, but also available for smaller affairs, Howard & Sons pyrotechnicians can bring an arena, stage, park, harbour, hilltop or even community centre to life anywhere in Tasmania. From Hobart to the Bernie, our logistics team is trained to transport explosives over land and water. Our pyrotechnicians are available for one-off or multiple date pyrotechnic special effects in or outside of theatres, for private and corporate events, concerts and national and international tours, movie shoots, photo shoots, circuses and sporting events. With specialised teams, quality equipment and incredible effects, Howard and Sons is the obvious choice.
If you are looking for experienced and ground-breaking pyrotechnicians for your indoor, outdoor, huge-scale or smaller wedding fireworks display in Tasmania, please contact our Howard & Sons Pyrotechnics Hobart representative, Rusty Johnson. You will be in the best of hands; Rusty designed one of Howard & Sons' gold-medal winning triumphs at the Da Nang International Fireworks Competition in Vietnam. Naturally, all of our pyrotechnicians work according to WorkSafe Tasmania regulations and are fully licenced.
You may have already seen Howard & Sons presentations on the island. If you witnessed a Nitro Circus Live performance in Hobart or Launceston, pyrotechnics were provided by Howard & Sons.
Howard & Sons Pyrotechnics Tasmania: Key Services
Howard & Sons are specialists in the design of elaborate and simpler displays with or without multimedia, lasers, water screens, confetti cannons and any other type of explosive entertainment. By having colleagues and representatives located closer to you, Howard & Sons Pyrotechnics will keep you in the picture, however large or small the spectacle may be.
Howard & Sons Pyrotechnics, Tasmania offers the following services:
Fireworks and pyrotechnics design
Fireworks and pyrotechnics licencing
Fireworks and pyrotechnics logistics
Howard & Sons Pyrotechnics, Tasmania: Events
Howard & Sons has broad experience in both straightforward and incredibly complex displays, and have often been requested to develop turnkey solutions from scratch. However, with us, small is beautiful, too. Howard & Sons Pyrotechnics would be honoured to host any one of the following events for discerning clients in Tasmania:
Contact Information for Howard & Sons Pyrotechnics, Tasmania:
Give us a call today and see how our pyrotechnician team will make your event an occasion no one will everforget.
Tasmania
Rusty Johnson
For all your display and product requirements in Tasmania.
0414 308 187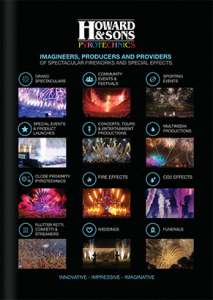 Download our Brochure
Howard & Sons Pyrotechnics are imagineers, producers and providers of spectacular fireworks and special effects. Download our brochure or for more information please contact our head office or your local area manager.
Howards Showreel
See a 60 second showreel of some of our grand spectacular projects.  These include large-scale events such as national day celebrations, special ceremonies, major special events and New Year's Eve celebrations.
Howard & Sons Pyrotechnics has the creative vision, expertise and passion to design and implement the most imaginative, innovative pyrotechnic concepts for your event, no matter what the scale.