Sensational in Sydney – Fireworks from Howard & Sons Pyrotechnics
Sydney Head Office
The Howard & Sons head office at Baulkham Hills is our centre for pyrotechnic excellence. From its small beginnings using imported fireworks in Newcastle, fireworks pioneer Howard & Sons Pyrotechnics has expanded to use its own creations and set the bar for immaculately choreographed multi-media displays. Internationally renowned, global recognition has not gone to it's head; Howard & Sons remains very close to home.
If you are looking for experienced and ground-breaking pyrotechnicians for your indoor, outdoor, huge-scale or wedding fireworks or staged events in the NSW region, please contact the Howard & Sons Sydney office. Join satisfied clients and audiences, such as those who celebrate the beginning of each New Year in Wollongong. Join those who have, since 1988, gathered at Darling Harbour to experience Howard & Sons sensational Sydney fireworks and pyrotechnic displays on auspicious occasions such as Australia Day, New Year's Eve and even the lighting of the city Christmas Tree.
The Leading Fireworks Company in Australia
From this central office dedicated to supplying spectacular highlights for any celebratory occasion, Howard & Sons Pyrotechnics caters for clients from Sydney Harbour across to Broken Hill, and from Byron Bay all the way down to Nadgee.
Howard & Sons Sydney Head Office: Key Services
We have designed, set up, managed and performed fantastic displays for every possible event from our head office in Sydney. Pyrotechnics, special effects and fireworks have come a long way since we started four generations ago, and the technology never stands still. Here, in Sydney, is where we keep to the forefront of our explosive profession. Naturally, all of our master pyrotechnicians are long-standing holders of the NSW fireworks licence.
The Howard & Sons Sydneyoffice offers the following services for the entire NSW region:
Fireworks and pyrotechnics design
Fireworks and pyrotechnics licencing
Fireworks and pyrotechnics logistics
Howard & Sons Pyrotechnics, Sydney: Events
Howard & Sons has been contracted to carry out both straightforward and incredibly complex displays, often being requested to develop turnkey solutions from scratch. However, with us, small is beautiful, too. Howard & Sons Pyrotechnics' Sydney head office would be honoured to host any one of the following events for discerning clients living or working in the NSW area:
Contact Information for the Howard & Sons Sydney Head Office:
Give us a call today and see how our Sydney pyrotechnicianswill make your event an occasion  no-one will everforget.
Sydney Head Office
Howard & Sons Pyrotechnics Displays Pty Ltd
PO Box 7118
Baulkham Hills
NSW 2153
Australia
+61 2 9899 4096
+61 2 9899 4196
bang@howardsfireworks.com.au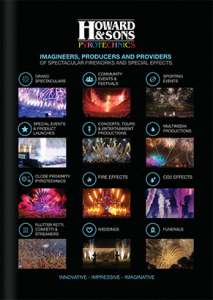 Download our Brochure
Howard & Sons Pyrotechnics are imagineers, producers and providers of spectacular fireworks and special effects. Download our brochure or for more information please contact our head office or your local area manager.
Howards Showreel
See a 60 second showreel of some of our grand spectacular projects.  These include large-scale events such as national day celebrations, special ceremonies, major special events and New Year's Eve celebrations.
Howard & Sons Pyrotechnics has the creative vision, expertise and passion to design and implement the most imaginative, innovative pyrotechnic concepts for your event, no matter what the scale.