Superb in South Australia – Howard & Sons Pyrotechnics, Adelaide
South Australia
Howard & Sons, the leading pyrotechnics company in Australia, has representatives all over the country ready to help and advice with the design and creation of your event fireworks or special effects, as well as teams of often local pyrotechnicians able to produce and present headline pyrotechnic events throughout South Australia.
Astounding in Adelaide
Magnificent in Mount Gambier
Wondrous in Whyalla
Thanks to our near one hundred years of experience in the field of pyrotechnics, where we have always kept up with the most recent technologies, designs, materials, rules and regulations, there is nothing we don't know about making your pyrotechnic event dramatic, exciting, awe-inspiring, and very, very safe. Over the years we have built extremely good relationships with our logistics teams, meaning wherever you are, the Howard & Sons Pyrotechnics professional fireworks company can – and will – get there.
Howard & Sons Pyrotechnics, Adelaide: Fireworks and Special Effects throughout South Australia
Howard & Sons professional pyrotechnicians can bring an arena, stage, park, harbour, hilltop or even community centre to life anywhere in South Australia, from Mount Gambier to Mylor. With specialised teams for one-off or regular indoor or outdoor pyrotechnic special effects for theatres, private and corporate events, bands, movie shoots, photo shoots, circuses and sporting events, we know exactly what is possible, and what is safe. For the largest audiences, Howard & Sons Grand Spectaculars combine futuristic displays with centuries-old ingredients.
If you are looking for experienced and ground-breaking pyrotechnicians huge-scale or wedding fireworks display in the South Australia region, please contact our Howard & Sons Pyrotechnics Adelaide representative, Mark Petkidis. Naturally, all of our pyrotechnicians working in the South Australia region hold a pyrotechnician's licence.
Howard & Sons Pyrotechnics Adelaide: Key Services
Whether for the small or huge scale, our head office in Sydney can design elaborate or simple but effective displays with or without multimedia, lasers, water screens, confetti cannons and any other type of explosive entertainment without leaving you in the dark. Having representatives closer to where your event will take place, Howard & Sons Pyrotechnics can keep you fully in the picture.
You might have witnessed Howard & Sons shows in consecutive years at the Adelaide Fringe Festival. We have also presented stunning, colourful night skies at the Royal Adelaide Show and the SAFM Skyshow.
Howard & Sons, Adelaide offers the following services for the entire South Australia region:
Fireworks and pyrotechnics design
Fireworks and pyrotechnics licencing
Fireworks and pyrotechnics logistics
Howard & Sons Pyrotechnics, South Australia: Events
Howard & Sons has been contracted to carry out both straightforward and incredibly complex displays, and are often requested to develop turnkey solutions from scratch. However, with us, small is beautiful, too. Howard & Sons Pyrotechnics would be honoured to host any one of the following events for our clients in the South Australia area:
Contact Information for Howard & Sons Pyrotechnics, Adelaide:
Give us a call today and see how our Adelaide pyrotechnician will make your event an occasion no-one will everforget.
South Australia
Mark Petkidis
For all your display and product requirements in Adelaide and South Australia.
PO Box 481, Littlehampton SA 5250
0413 176 337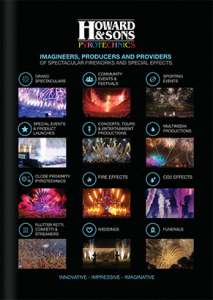 Download our Brochure
Howard & Sons Pyrotechnics are imagineers, producers and providers of spectacular fireworks and special effects. Download our brochure or for more information please contact our head office or your local area manager.
Howards Showreel
See a 60 second showreel of some of our grand spectacular projects.  These include large-scale events such as national day celebrations, special ceremonies, major special events and New Year's Eve celebrations.
Howard & Sons Pyrotechnics has the creative vision, expertise and passion to design and implement the most imaginative, innovative pyrotechnic concepts for your event, no matter what the scale.