Dazzling in Darwin – Fireworks Created to Impress by Howard & Sons
Northern Territory
Howard & Sons, the leading pyrotechnics company in Australia, has representatives all over the country ready to help and advice with the design and creation of your event fireworks or special effects. Our many years in this exciting sector means we can bring our custom fireworks and special effects safely to your event anywhere in the Northern Territory.
Howard & Sons Pyrotechnics have always kept up with the most recent technologies, designs, materials, rules and regulations. There is nothing we don't know about making your pyrotechnic extravaganza dramatic, exciting, awe-inspiring, and very, very safe.
Howard & Sons Pyrotechnics, Darwin: Fireworks and Special Effects throughout the Northern Territory
Howard & Sons can bring an arena, stage, park, harbour, hilltop or even community centre to life, from Darwin all the way down to Alice Springs. With specialised and experienced teams for one-off or regular, outdoor or indoor pyrotechnic special effects for theatres, private and corporate events, bands, movie shoots, photo shoots, circuses and sporting events, we know exactly what is possible, and what is safe. For the largest audiences, Howard & Sons Grand Spectaculars combine futuristic displays with centuries-old ingredients.
If you are looking for knowledgeable and ground-breaking pyrotechnicians for your smaller scale wedding fireworks display, or your huge-scale staged event anywhere in Northern Territory, please contact our Howard & Sons Pyrotechnics Darwin representative. The information is listed below. Naturally, all of our pyrotechnicians working in the NT region work according to NT WorkSafe regulations. At Howard & Sons Pyrotechnics, every day is Territory Day.
In fact, you might not need much convincing to drop us a line. You may have already seen Howard & Sons fireworks and multimedia special effect presentations in NT such as the Magic over Mindil Skyshow, Royal Darwin Show and a few Darwin New Year's Eve spectaculars.
Howard & Sons Pyrotechnics Darwin: Key Services
We design elaborate or simple but effective displays with or without multimedia, lasers, water screens, confetti cannons and any other type of explosive entertainment. No matter how complex, our position as the leading Australia firework manufacturer and firing system frontrunner means the greatest part of the Australian sky has been decorated with our cutting-edge spectacles at some time or other during the past century.
Howard & Sons NT offers the following services for the entire region:
Fireworks and pyrotechnics design
Fireworks and pyrotechnics licencing
Fireworks and pyrotechnics logistics
Howard & Sons Pyrotechnics, NT: Event types
Howard & Sons Pyrotechnics would be honoured to host any one of the following events throughout NT:
Contact Information for Howard & Sons Pyrotechnics, Northern Territory:
Give us a call today and see how our Darwin pyrotechnician team will make your event an occasion no one will ever forget.
Northern Territory
For all your display and product requirements in the Northern Territory.
0413 176 337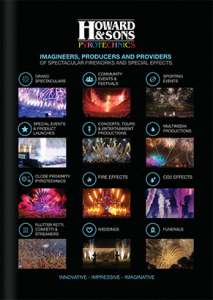 Download our Brochure
Howard & Sons Pyrotechnics are imagineers, producers and providers of spectacular fireworks and special effects. Download our brochure or for more information please contact our head office or your local area manager.
Howards Showreel
See a 60 second showreel of some of our grand spectacular projects.  These include large-scale events such as national day celebrations, special ceremonies, major special events and New Year's Eve celebrations.
Howard & Sons Pyrotechnics has the creative vision, expertise and passion to design and implement the most imaginative, innovative pyrotechnic concepts for your event, no matter what the scale.