Notorious in New Zealand – Howard & Sons Pyrotechnics, Wellington
New Zealand
Howard & Sons, the leading pyrotechnics company in Australia, has representatives all over the country ready to help and advise with the design and creation of your fireworks or special effects events, as well as teams of pyrotechnicians able to produce and present headline pyrotechnic displays throughout New Zealand.
World-class in Wellington
Auspicious in Auckland
Thanks to near one hundred years of experience in the pyrotechnics sector, there is nothing we don't know about making your event dramatic, exciting, awe-inspiring, and very, very safe. Over the years we have built extremely good relationships with our logistics teams, meaning wherever you are, the Howard & Sons Pyrotechnics professional fireworks company can – and will – get there.
Howard & Sons Pyrotechnics, New Zealand: Fireworks and Special Effects for World Class Events
Howard & Sons professional pyrotechnicians can bring your arena, stage, park, harbour, hilltop or even community centre to life anywhere in New Zealand, on land or water. With specialised teams for one-off or regular, indoor or outdoor pyrotechnic special effects for theatres, private and corporate events, bands, movie shoots, photo shoots, circuses and sporting events, we know exactly what is possible, and what is safe. For the largest audiences, Howard & Sons Grand Spectaculars combine futuristic displays with centuries-old ingredients.
If you are looking for experienced and ground-breaking pyrotechnicians for your huge-scale or smaller wedding fireworks in New Zealand, please contact our Howard & Sons Pyrotechnics Auckland and Wellington representative, Mark Hakaraia. Naturally, all of our pyrotechnicians hold a pyrotechnician's licence and work according to the most recent Health and Safety at Work regulations according to New Zealand law.
Howard & Sons Pyrotechnics Auckland: Key Services
Whether for the small or huge scale, our head office in Sydney can design elaborate or simple but effective displays with or without multimedia, lasers, water screens, confetti cannons and any other type of explosive entertainment without leaving you in the dark. Having highly experienced representatives close to your home town or event location means Howard & Sons Pyrotechnics will keep you in the picture.
Previous events designed and presented by Howard & Sons include some impressive pyrotechnic displays: Auckland Rugby World Cup ceremonies, Nitro Circus, Crusty Demons, Skyshow and Skytower Opening, and the Auckland Anniversary Spectacular.
Howard & Sons, New Zealand offers the following services:
Fireworks and pyrotechnics design
Fireworks and pyrotechnics licencing
Fireworks and pyrotechnics logistics
Professional pyrotechnics logistics by land, air or sea
Howard & Sons Pyrotechnics, New Zealand: Events
Howard & Sons has designed and presented both straightforward and incredibly complex displays, and are often requested to develop turnkey solutions from scratch. Howard & Sons Pyrotechnics would be honored to host any one of the following events for its New Zealand neighbors:
Contact Information for Howard & Sons Pyrotechnics, Auckland:
Give us a call today and speak to our professional pyrotechnicians. Australia and New Zealand based teams will make your event an occasion no one will ever forget.
New Zealand
Mark Hakaraia
For all your display and product requirements in New Zealand.
+6421 686 400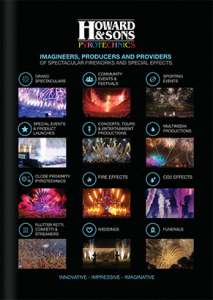 Download our Brochure
Howard & Sons Pyrotechnics are imagineers, producers and providers of spectacular fireworks and special effects. Download our brochure or for more information please contact our head office or your local area manager.
Howards Showreel
See a 60 second showreel of some of our grand spectacular projects.  These include large-scale events such as national day celebrations, special ceremonies, major special events and New Year's Eve celebrations.
Howard & Sons Pyrotechnics has the creative vision, expertise and passion to design and implement the most imaginative, innovative pyrotechnic concepts for your event, no matter what the scale.