Mind-blowing Melbourne Fireworks and Special Effects from Howard & Sons Pyrotechnics
Melbourne, Victoria
Howard & Sons pyrotechnicians, designers and representatives are available to assist in the arrangement, management and production of your special effects and fireworks displays in Melbourne and all over Victoria.
Howard & Sons Pyrotechnics, Melbourne: Fireworks and Special Effects throughout Victoria
Specialising in larger events, but also available for smaller affairs, Howard & Sons pyrotechnicians can bring an arena, stage, park, harbour, rooftop or even community centre to life anywhere within the state of Victoria and the city of Melbourne.
Our pyrotechnics design department savours the challenge of working on or around city landmarks, marine environments, iconic buildings and challenging architecture, all of which are plentiful in the city and surrounding areas of Melbourne. Pyrotechnics extravaganzas from Howard & Sons light up not only the skies of Melbourne with fireworks, but the most beautiful structures this city has to offer, and thousands of upturned faces.
Working in urban areas carries its own challenges, as well as a myriad of triumphs. While special effects can leap from the surrounding infrastructure, a long list of strict regulations need to be met. With many years of experience in pyrotechnics-related legal aspects, Howard & Sons ensures its designers, Melbourne pyrotechnicians and Melbourne fireworks logistics teams always adhere to laws and guidelines from regulating bodies such as WorkSafe Victoria, Victoria Council and the Fire Authority. Naturally, all of our pyrotechnicians are fully licenced.
We are proud to include countless mind-blowing New Year's celebrations and Moomba festivals in our list of achievements, as well as the Royal Show in Melbourne. Fireworks and spectacular effects have also been fired between Geelong and Mornington Peninsula for Australia Day.
Howard & Sons Pyrotechnics Melbourne, Victoria: Key Services
Howard & Sons are specialists in the design of elaborate or simple but effective displays with or without multimedia, lasers, water screens, confetti cannons and many other types of explosive entertainment.
Howard & Sons Pyrotechnics' Melbourne representative can bring the following services closer to home:
Fireworks and pyrotechnics design
Fireworks and pyrotechnics licencing
Fireworks and pyrotechnics logistics
Howard & Sons Pyrotechnics, Victoria: Events
Howard & Sons are often requested to develop turnkey solutions from scratch. However, with us, small is beautiful, too. Howard & Sons Pyrotechnics would be honoured to host any one of the following events:
Contact Information for Howard & Sons Pyrotechnics, Melbourne:
Give us a call today and see how our brilliant team of special effects designers and pyrotechnicians will make your event an occasion no one will ever forget.
Victoria
Rusty Johnson
For all your display and product requirements in Melbourne and Victoria.
PO Box 235, Balnarring Victoria 3926
0414 308 187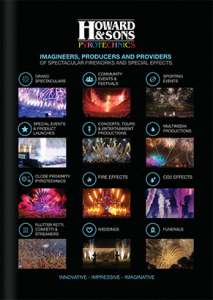 Download our Brochure
Howard & Sons Pyrotechnics are imagineers, producers and providers of spectacular fireworks and special effects. Download our brochure or for more information please contact our head office or your local area manager.
Howards Showreel
See a 60 second showreel of some of our grand spectacular projects.  These include large-scale events such as national day celebrations, special ceremonies, major special events and New Year's Eve celebrations.
Howard & Sons Pyrotechnics has the creative vision, expertise and passion to design and implement the most imaginative, innovative pyrotechnic concepts for your event, no matter what the scale.