Internationally Influential, Award-Winning Pyrotechnics Company, Australia
International Projects
From small beginnings as an importer of early fireworks, to an international contender in the pyrotechnics field, Howard & Sons have travelled far, bringing fire, vibrant colour, heart-stopping effects and choreographed light to night-time skies all over the globe.
Four generations of pyrotechnic skills has made Howard & Sons Australia's leading fireworks company. Sydney-based, but with representatives all over Australia, pyrotechnics design and manufacturing departments within our forward-thinking environment have produced in-house, custom materials used in complex cityscape displays, all of which have been highly acclaimed.
Howard & Sons Pyrotechnics have followed in the tracks of entertainers as they venture out on international tours, providing reliable, safe, awe-inspiring outdoor or indoor pyrotechnics night after night after night.
Howard & Sons Pyrotechnics have created Great Spectaculars from scratch for events seen on televisions, phones, tablets and computer screens all over the world, designing custom fireworks, equipment, and choreography to delight every audience.
Howard and Sons Pyrotechnics have hosted pyrotechnic events for some of the biggest international sporting occasions, for New Year celebrations in major cities, and for national and international holidays and anniversaries all over the globe.
Howard and Sons Pyrotechnics have been awarded numerous Gold and Silver medals for renowned, international fireworks competitions hosted in various locations such as Canada, China, Malaysia, Sweden, Monte Carlo, Spain, Korea, Oman, Vietnam and Monaco.
Australia at its Best: Fireworks Company Produces Global Spectaculars
Don't just take our word for it. Have a look at the gallery to view our work or browse YouTube. From iconic pictures of our New Year celebrations display in Melbourne, to the 50th Golden Jubilee of the Kingdom of Brunei, Howard & Sons Pyrotechnics, Australia, always delivers a world-class performance.
Festivals and national holidays all over Australia and New Zealand
Commonwealth Games Opening & Closing Ceremonies
Sands Macau 10th Anniversary
New Year Celebrations Macau, China
50th Golden Jubilee & Bridge Opening Celebrations, Brunei
Nitro Circus Europe Tour
Opening & Closing Ceremonies Pacific Games, Port Moresby, PNG
Nitro Circus USA Tour
Australian International Cricket Series
Doha Tribeca Film Festival
Visit Malaysia Year WaterSky Spectacular, Malaysia
50th Anniversary Celebrations, City of Shenzhen, China
Fourth of July Celebrations, Utah, US
100 Years of Kingdom Ceremony, Medina, Saudi Arabia
Key Services for Howard & Sons International Firework and Special Effects Displays
For its international clients, Howard & Sons Pyrotechnics provide a number of key services:
International fireworks logistics solutions by land, air or sea
Custom firework and special effect design from award-winning designers
Cutting-edge pyrotechnic technology including custom firing systems
Land, infrastructure or on-water launching sites in major cities
Our own firework manufacturing facility
Master pyrotechnicians with years of national and international experience
Multimedia displays on a scale many firework companies do not dare to attempt
Strict adherence to local, national and international codes and regulations
Howard & Sons Pyrotechnics, Sydney: Events
Howard & Sons has been contracted to carry out both straightforward and incredibly complex displays, often being requested to develop turnkey solutions from scratch. However, with us, small is beautiful, too. Howard & Sons Pyrotechnics' Sydney head office would be honoured to host any one of the following events for discerning clients living or working in the NSW area:
Contact Information for Howard & Sons Pyrotechnics, Sydney, Australia:
International events need professional guidance. With experience in all manner of logistics challenges, Howard & Sons Pyrotechnics will transport uniquely designed and choreographed festivals of sound and vision right to your doorstep, no matter how far.
International Projects
Andrew Howard, Director of Displays
For all your national and international special events.
+61 2 9899 4096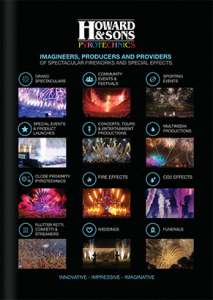 Download our Brochure
Howard & Sons Pyrotechnics are imagineers, producers and providers of spectacular fireworks and special effects. Download our brochure or for more information please contact our head office or your local area manager.
Howards Showreel
See a 60 second showreel of some of our grand spectacular projects.  These include large-scale events such as national day celebrations, special ceremonies, major special events and New Year's Eve celebrations.
Howard & Sons Pyrotechnics has the creative vision, expertise and passion to design and implement the most imaginative, innovative pyrotechnic concepts for your event, no matter what the scale.