Factory Office & Railway Track Signals
Howard & Sons Pyrotechnics RTS for Australian railways
Factory Office & Railway Track Signals
Also known as audible track warning signals, detonators or audible track warning devices, railway track signals (RTS) are used to attract the attention of train crews when track repairs or an obstruction are ahead. The number of railway track signal explosions indicates what drivers are required to do.
Naturally, explosions are Howard & Sons' department. We consider it a privilege to provide a life-saving device for the huge national railway line system of Australia.
RTS are linked to a huge number of legal requirements, all of which Howard & Sons Pyrotechnics' trained and certified technicians fulfil with the utmost care and attention to detail. However, RTS manufacturer is not our only role. Our name has contributed to the safety classification of railway track signals, too.
Howard & Sons Pyrotechnics Manufacturing: We Stand for Safety
This type of manufacture might seem a strange choice for a fireworks company which specialises in spectacular pyrotechnic events, but for this particular branch of the transport system we play a vital role. Thanks to Howard & Sons Pyrotechnics, railway track signals are classified as a Class 1.4S explosive; however, this lower classification only applies if the signals are supplied, stored and handled in original Howard & Sons Pyrotechnics packaging. Our branding therefore stands for product reliability and product safety.
Contact Information for Howard & Sons Pyrotechnics Factory Office, NSW:
Please feel free to contact our RTS and fireworks manufacturing facility direct for further information. Our experienced technicians will be able to answer your questions relating to the manufacture of RTS or our products.
For RTS guidelines, please visit the Australian Explosives Industry and Safety Group (AEISG) website.
Factory Office & Railway Track Signals
Howard & Sons Pyrotechnics Manufacturing Pty Ltd
581 Pipers Flat Road, Wallerawang NSW 2845 Australia
PO Box 180, Wallerawang NSW 2845
+61 2 6355 7301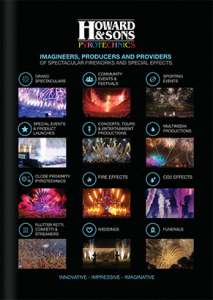 Download our Brochure
Howard & Sons Pyrotechnics are imagineers, producers and providers of spectacular fireworks and special effects. Download our brochure or for more information please contact our head office or your local area manager.
Howards Showreel
See a 60 second showreel of some of our grand spectacular projects.  These include large-scale events such as national day celebrations, special ceremonies, major special events and New Year's Eve celebrations.
Howard & Sons Pyrotechnics has the creative vision, expertise and passion to design and implement the most imaginative, innovative pyrotechnic concepts for your event, no matter what the scale.